Timeline FX
---
Tweet
blitzmax
code-archives
effects
frameworks
toolbox
A complete solution for creating a full range of particle effects for your games and applications.
Download Page: https://www.rigzsoft.co.uk/for-blitzmax/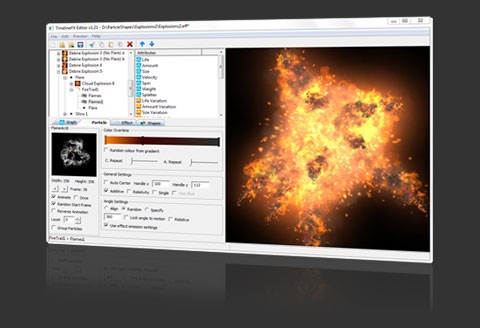 Available also in Monkey-X, check website. This is also an example where you can post a topic, toolbox and a code archive entry efficiently and at the same time.
i really wanted someone to make timelinefx work under xors3d.. but no one has tried..
they told me its easy.. but i didnt manage to make it..
Still hope someone will give it a shot TY
Interesting, does xors3d support custom 2d layers on top of it? Will it have a similar effect like in particle candy?
Xors3D has its own particle effects..
But either its incomplete or i didn't get it correctly.
About 2d layers. I don't think so
.
I also not certain i understand what it means
I see. Yes, something like switching to 2D. I'm not that familiar with Xors3D, but I think that is DirectX 9 only right? It seems possible as TFX supports multiple renderers like DX9.
I don't think it's about that HC as I think Xors3D looks like a nice featured 3d framework or engine. Perhaps Blitz users in general still worry about its abandonware type licensing. I hope we could get in touch with the authors so we could settle this issue once and for all. I did that with Flow3D (now it's MIT) and I was thinking maybe we can do the same.
Do you have any idea or info how to contact these guys?
you should ask people in the syntax bomb website.. someone knows their names..
regardless of the license thing.. if its not too hard to develope something that will make timelinefx work in xors , at least we could do stuff with it..
i dont think this guys from xors care too much about it atm..
also i have purchesed mine .. so im clean
I see. I guess if licensing is really not a big of an issue now then perhaps I could have a check on it when I get a chance. Yue already posted a download link somewhere here in the forums if I remember correctly. Are the command names and convention similar to blitz3d?
Hey, something I found that is related and interesting as well and this thread was just about a year ago. http://www.thinbasic.com/community/showthread.php?12751-Xors3D-engine
I hope someone will continue xors 3D it will really help me..
also alba lynx GUI improvements would be good
Reply To Topic (minimum 10 characters)
Please log in to reply